Anamika Sinha, Esq.
Attorney at Law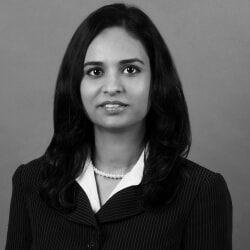 Education:
1997 Banaras Hindu University (India) B. S. in Geology (With Honors)
2001 University of Texas at Dallas M.S., MIS
2008 Texas Wesleyan University School of Law, Juris Doctorate
Member:
State Bar of Texas
Dallas Bar Association
Collin County Bar Association
Dallas Association of Young Lawyers
Texas Young Lawyers Association
The National Advocates Top 100 Lawyers
Practice Areas:
Immigration
Family Law
Estate
Wills
Ms. Sinha joined Mathur Law Offices, P.C., in February 2009. She graduated at the top of her class with honors in Geology from Banaras Hindu University, India. She also has a Masters in Management Information Systems from the University of Texas at Dallas. Ms. Sinha received her J.D. from Texas Wesleyan School of Law, Fort Worth in May 2008. She was licensed to practice law in Texas in November 2008.
Immigration and Family Law are her main areas of interest. She is a certified mediator and has mediated several cases at the Dallas Dispute Resolution Center. She is also an Attorney Ad Litem for Collin County courts in Child Protection Litigation.
During law school, Ms. Sinha was the holder of the Law Diversity Scholarship. She wrote the best trial brief in her legal writing class. She has also participated in the Wesleyan Innocence Project. Her legal experience includes internships at Legal Aid of Northwest Texas and the Child Abuse Section of Dallas DA's office.
Ms. Sinha was born and raised in India and immigrated to the US in 1999. Since then, she has been an active participant in the Dallas/Fort Worth community. In addition to regularly volunteering at Legal Aid of Northwest Texas, she enjoys being a part of South Asian community in the Dallas/ Fort Worth metroplex and participating in activities organized by Lily Foundation, Chinmaya Mission, and various DFW Indian Cultural societies.
Being an immigrant herself, Ms. Sinha feels closely connected to the immigrant community in US. She has great respect for the rights and freedoms enshrined in the US constitution, and the important role a robust judiciary plays in safeguarding them. She admires the opportunities this country provides to everybody regardless of race, color, religion, gender, country of origin, or political affiliations.