Dersaheittie "Dora" Mitchell
Attorney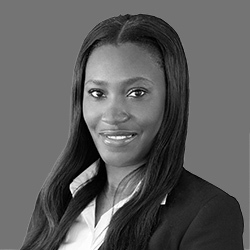 Education:
Southern Methodist University Dedman School of Law, Juris Doctorate (J.D.) in Law
University of Texas at Arlington, Bachelor of Arts (B.A.)
Work Experience:
Document Review Attorney, Epiq Global
Special Counsel eDiscovery Attorney
Attorney at Law, Law Office of Dora Mitchell
Criminal Defense Attorney, JBabb Law Firm
Dersaheittie "Dora" Mitchell is an experienced attorney and key member of our team at Mathur Law Offices, P.C. Her career as a lawyer began right here in the Dallas-Fort Worth area, where our offices are located. She graduated with her B.A. from the University of Texas at Arlington and her J.D. from Southern Methodist University's Dedman School of Law.
Since graduating, Attorney Mitchell has served the people of Texas in various roles. She advocated for clients facing criminal charges, negotiating favorable plea deals and bond agreements. She also represented individuals in contract, employment, and family law cases.
Most recently, Attorney Mitchell has utilized her skills in roles that involved document review and eDiscovery. She was vital to a document review in a major telecom acquisition, as well as the eDiscovery process in various pharmaceutical, contract, and patent cases.
The experience and unique skillset that Attorney Mitchell brings to our team at Mathur Law Offices, P.C. are invaluable. To schedule a consultation to speak with her or any of our other experienced lawyers, reach out to our offices.
Call (888) 867-5191 or connect with us online.