Jay Johnson
Attorney at Law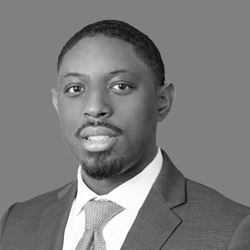 Education:
Texas Southern University, Juris Doctorate (J.D.) in Law
Southern Methodist University, Bachelor's in Psychology and in Economics
Work Experience:
Associate Attorney, Carpenter & Associates
Assistant Attorney General, Office of the Attorney General
Land Representative, Enterprise Product L.P.
Attorney at Law
Practice Areas:
Oil and Gas
Civil Law
Family Law
Real Estate
Estate Planning
A Fairfield, Texas native, Jay Johnson is a Gates Millennium Scholar, and in 2009, he graduated from Southern Methodist with a B.S. in Psychology and a B.A. in Economics (with a Finance Application). He then attended and graduated from Texas State University's Thurgood Marshall School of Law with a Juris Doctorate in Law.
Attorney Jay Johnson has been licensed to practice law in Texas since 2013. His primary areas of practice include family law, real estate, wills, trusts, and probate. He is dedicated to excellence and thrives on achieving the best possible case results for his clients. He is known for being highly skilled at analyzing complex legal documents and issues and explaining them in layman's terms to his clients.
Outside of practicing law, Jay is a sports enthusiast. He also serves as the finance chairman of his church. Even when he is not working, he also stays up-to-date on current laws, regulations, and practices.
Attorney Johnson is a valuable addition to the Mathur Law Offices team. We are excited to see how our clients benefit from his extensive litigation and negation experience, legal expertise, and unrivaled dedication.
Discuss your case with Attorney Jay Johnson or another member of our team by calling (888) 867-5191 or completing this online form.