Lynn S. Preshad, Esq.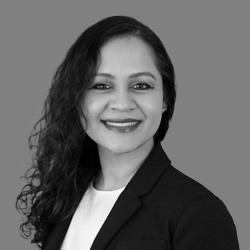 Associate Attorney
Education:
Western Michigan University Thomas M. Cooley Law School, Juris Doctorate (J.D.) in Law
University of Wyoming, Bachelor of Science (B.S.)
Member:
State Bar of Texas
State Bar of Illinois
Chicago Bar Association
Austin Bar Association
South Asian Bar Associations of Chicago and Austin
Travis County Women Lawyers' Association
American Immigration Lawyers Association
Work Experience:
Staff Attorney, Berry Appleman & Leiden, LLP
Attorney, Dreyfus Law Group
Independent Practice Attorney
Practice Areas:
Immigration Law
Family Law
Civil Litigation
Foreclosure Defense
Real Estate
Business Contracts
Lynn S. Preshad is an adept attorney with wide-ranging legal knowledge and experience. She graduated from the University of Wyoming with honors. Preshad received her J.D. from the Western Michigan University Thomas M. Cooley Law School in 2009 with a concentration in litigation. She was admitted into the Illinois State Bar in 2009. She was also authorized by the Executive Office for Immigration Review (EOIR) to practice in immigration courts in 2013.
Preshad has experience with immigration, family, real estate, and business contracts law, in addition to civil litigation. Immigration law has been her focus for more than a decade, and she has handled cases concerning asylum, citizenship, deportation, immigration court appearances, family visas, removal, and more.
Several organizations have recognized her for her work. In both 2013 and 2021, the Chicago Volunteer Legal Service's (CVLS) American Immigration Lawyers Association (AILA) clinic awarded her for outstanding service. Renowned website Super Lawyers even named her an Illinois Rising Star in 2019. Preshad is also part of the South Asian Bar Association (SABA) and has counseled numerous clients and led the charge in developing and securing funding for law student fellowships and various public interest projects.
Attorney Lynn S. Preshad's experience with immigration law is both professional and personal. A child of Indian parents, she was born in England and emigrated to the United States in 1990. This experience informs her approach, as she knows how vital advocacy and professional counsel are for individuals and families navigating immigration cases.
In her free time, Preshad enjoys learning about nutrition and staying active. She likes hiking, working out, and spending time with her cats. She speaks Hindi and Urdu and is taking classes to become fluent in Spanish.
To discuss your case with attorney Lynn S. Preshad or any of the other members of our team, give us a call at (888) 867-5191 or connect with us online.