Julio Nieto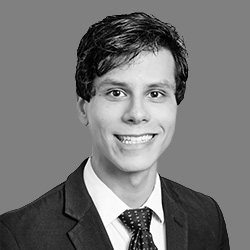 Attorney – Licensed in Texas
Education
University of North Texas Dallas College of Law
University of Central Florida
Languages
Licenses
State Bar of Texas
Registered Texas Notary (2018 – 2022)
Practice Areas
Civil law
Criminal defense
Julio Nieto is a young lawyer with a bright future. Despite only recently completing law school, Attorney Nieto has already gained extensive experience in criminal defense proceedings which he is prepared to use to serve his clients.
Attorney Nieto received his Juris Doctor from the University of North Texas Dallas College of Law in May 2020. During his studies, he served as the 2L Class Representative in the Student Bar Association. His excellence in his studies was recognized regularly, as he was a recipient of a UNT Dallas College of Law Scholarship, Dallas Hispanic Law Foundation Amanecer Judicial Internship, and Dallas Bar Foundation Collin Clerkship.
His undergraduate studies were equally impressive. While obtaining his Bachelor of Science in legal studies, Attorney Nieto received the Florida Silver Medallion Scholarship. He also made the Dean's List on multiple occasions.
Attorney Nieto began his legal career as a volunteer judicial intern for the Honorable Judge William Altfield at the 11th Judicial Circuit Court of Florida. Through this position, Julio developed valuable skills. He researched issues to assist with sentencing, drafted memoranda to clarify legal scenarios for the judge, and assisted judicial clerks with editing and proofreading tasks. Throughout the internship, he was able to observe trials and familiarize himself with standard court processes.
After leaving Florida to pursue his law degree in Texas, Julio Nieto interned at the Dallas County Public Defender's Office. He had the opportunity to grow more involved in cases, as he created demonstrative trial aids by analyzing evidence reports, prepared plea paperwork for clients, drafted memoranda briefs, and performed client interviews. He represented clients in plea proceedings, and was able to use his Spanish language skills to interpret pleadings for Spanish speaking clients.
While interning for the Dallas County Public Defender's Office, Attorney Nieto also served as a judicial intern for the Honorable Judge Hector Garza at the 195th Judicial District Court of Texas. The role allowed him to observe the jury process and open pleas.
As he continues on his career path, Attorney Nieto hopes to serve as an advocate for poorer citizens, providing them with the powerful defense they need when they need it most.