Assault Lawyer in Dallas, TX
Find the Aggressive Representation You Need -
(888) 867-5191
Assault is one of the most commonly misunderstood criminal allegations. While man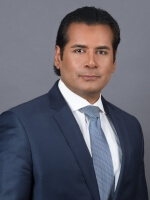 y may believe that they cannot be prosecuted when no physical contact or injury occurs, the fact remains that assault only requires the attempt or threat of physical violence in order to be prosecuted.
Penalties for assault can also be incredibly severe. If you, your loved one, or someone you care about has recently been arrested and/or charged with any assault offense in the Dallas area, you need to equip yourself with legal representation that has the experience, resources, and willingness to fight relentlessly on your behalf.
Why Choose Our Defense Attorneys?
25 Years of Trial-Tested Experience
History of Not Guilty Verdicts & Case Dismissals
Personalized Strategies for Each Case
Legal Services Available in English, Hindi, Spanish, Vietnamese, and Urdu
At the Mathur Law Offices, P.C., our legal team is prepared to handle all assault charges, including those involving domestic violence. Assault charges may include any of the following.
Assault
Assault is a Class A misdemeanor offense that occurs when one person intentionally threatens violence, causes offensive physical contact, or causes bodily injury to another. Punishment includes up to $4,000 in fines, up to one year in jail, or both. When assault is committed against a public servant, a family member, a government contractor, an emergency service personnel, security officer, or other certain individuals, elevated charges and penalties may arise.
Aggravated Assault
As defined by § 22.02 of the Texas Penal Code, aggravated assault occurs when an assault causes serious bodily injury or when a deadly weapon is used. Although aggravated assault is commonly prosecuted as a second-degree felony, punishable by 2 to 20 years imprisonment, enhanced charges and sentencing may arise when certain aggravating circumstances are involved. Aggravating circumstances may include aggravated assault committed against a public servant, committed from a motor vehicle, or the discharge of a firearm, among others.
Sexual Assault
Assault charges may also refer to crimes that involve nonconsensual sexual conduct. Intentional sexual contact without another person's consent or against a child under the age of 17 can result in felony sexual assault charges. Prior criminal convictions and various aggravating circumstances can also enhance penalties. Anyone facing sexual assault charges should be aware that prosecutors are eager to convict offenders and that prosecute accused offenders zealously.
Aggravated Sexual Assault
When a person causes serious bodily injury or exhibits or uses a deadly weapon during the commission of a sexual assault, they can be prosecuted for aggravated sexual assault. As a second-degree felony, this charge is punishable by 2 to 20 years in prison, and possibly up to $10,000 in fines. Should aggravating circumstances be involved, charges may be elevated to a first-degree felony, which is punishable by 5 to 99 years imprisonment, or a life sentence.
Personal Attention & Specific Legal Solutions
At Mathur Law Offices, P.C., we treat each client and their case on a unique basis, and we never apply generalized, one-size-fits-all remedies when fighting for your future. Not only does this allow our Dallas criminal defense attorneys to support you through these difficult experiences, but it also allows our team to build the strongest, most effective defense possible. If you or your loved one is facing assault charges, you cannot leave anything to chance.