Dallas White Collar Crime Lawyer
Representation for Financial Crimes - Call
(888) 867-5191
Named for their association with business professionals and white collar workers,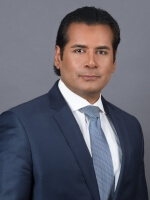 white collar crimes refer to a group of nonviolent, financially motivated offenses that illicitly obtain funds. Commonly prosecuted as felony offenses and federal crimes, these charges pose extremely devastating criminal consequences that can ruin individuals financially, professionally, and personally.
Why Choose the Mathur Law Firm?
Defending the Rights of Texans Since 1999
Accredited by the BBB®
Tailored Legal Representation for Every Single Case
A History of Not Guilty Verdicts & Dismissed Charges
If you stand accused of any white collar crime, including any of the following, then allow a Dallas criminal defense attorney from the Mathur Law Offices, P.C., to defend against the life-changing charges you face.
Schedule your consultation today: (888) 867-5191.
Common Types of White Collar Crimes in Dallas
Embezzlement is one of the more common white collar crimes prosecuted in the state of Texas. It refers to any act in which an individual entrusted with assets withholds the assets for the purpose of theft. A type of fraud, embezzlement is commonly committed by employees and professionals who have access to other's funds. With severe penalties at stake, anyone facing these allegations should retain legal representation.
A person can be charged with forgery when they alter, make, or authenticate any writing to fraudulently obtain services or funds. There are many elements inherent to this charge, including the nature of the forgery and its intended purpose.
Fraud is a term that refers to a variety of charges, all of which involve intentional deception as a means with which to obtain money or services. Common examples include securities fraud, bank fraud, mail fraud, credit card fraud, and others. Although all fraud allegations are considered a serious offense, certain charges may be prosecuted as a federal crime.
As our nation's economy becomes increasingly tightened, law enforcement agencies are motivated to stop those who fraudulently obtain benefits from the federal government. When a person deceives or misrepresents themselves, falsifies documents, or commits any other fraudulent act in order to obtain welfare benefits, they can be charged with a federal crime.
In addition to handling these white collar crimes, our legal team is equipped with the experience and legal background to successfully represent clients facing charges for Ponzi schemes, extortion, money laundering, and numerous other fraud crimes. We also possess the experience to handle these matters in federal court.
Consult With a Qualified Dallas Defense Lawyer Today
White collar crimes are extremely serious criminal offenses that adversely impact the lives of others. Crimes committed directly against the federal government, including welfare fraud, are often prosecuted as federal crimes which pose crippling criminal penalties.
A firm that believes in protecting the rights of clients and preserving their innocence until proven guilty, the Mathur Law Offices, P.C., is dedicated to aggressively defending those accused of white collar crimes. Allow our legal team to help protect your future.